Mrs. Marie Russo of the Lakeview House enjoys gardening!  She enjoys the outdoors on our shaded deck.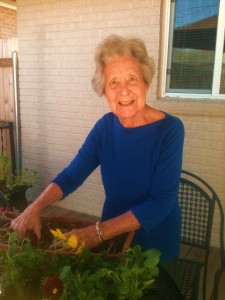 We strive to make everyday meaningful at the Lakeview House and all    Peristyle Residences locations.  Our residents enjoy the company of each other, families & friends, and their caregivers in our residential assisted living homes.  Come by and experience the difference!
Individualized resident directed care is what makes our homes unique.  We provide daily activities and residents enjoy life at their pace.  Even when done well, nursing homes and larger assisted living facilities follow institutional service plans and schedules that may not satisfy the preferences of your loved one.
Others are homelike, We are HOME!