Bathroom Safety at Peristyle Residences
Is my elderly family member safe while going to the bathroom? Nearly all families ask this important yet scary question when searching for care for an aging loved one. Families are justified in their concern, as almost 80% of falls occur in the bathroom. At Peristyle Residences, we are committed to preventing dangerous falls among our residents, especially in predictable places such as the restroom. We accomplish this by implementing practical safety protocols and utilizing cut-of-the-edge bathroom safety technologies. Read on to learn more about how we keep our residents safe at our nine assisted living homes.

All Of Our Bathrooms Are ADA Compliant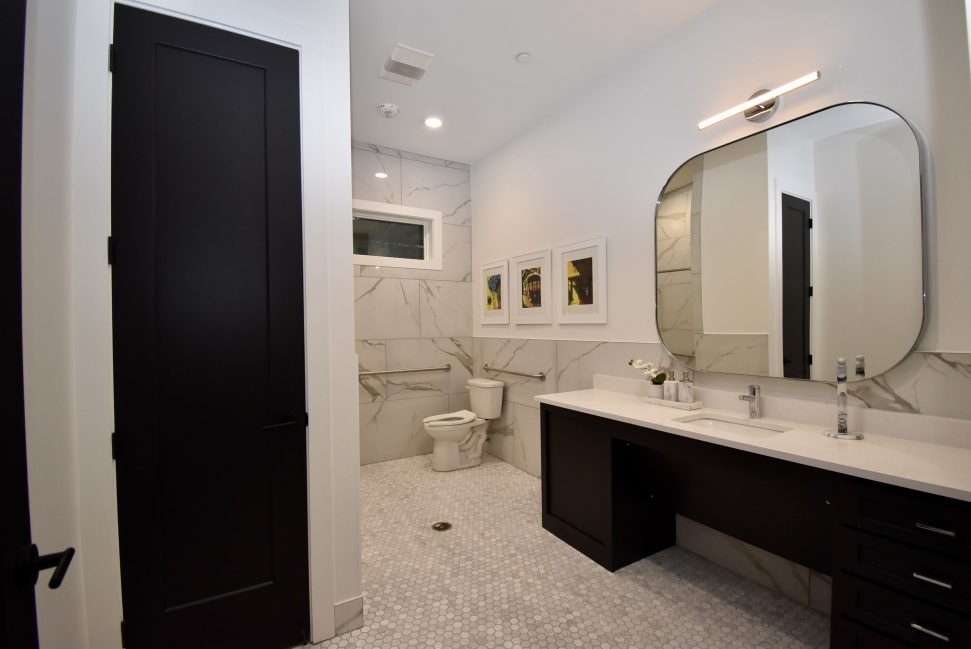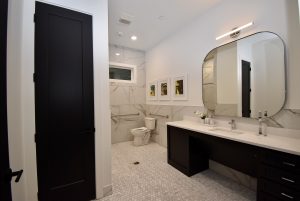 At Peristyle Residences, we adhere to the American Disabilities Act (ADA) regulations and guidelines on bathroom accessibility. All toilet seats are a minimum of 19" tall, with grab bars on the walls for stability and assistance in sitting and standing. Our minimum bathroom size is 60 feet wide x 56 feet deep, making wheelchair accessibility more convenient. 
We Fully Assist Our Residents With Bathing and Grooming
To prevent a dangerous fall, we assist our residents with bathing and grooming upon request or if they cannot independently perform this daily living activity (ADL). Our team of trained caregivers makes it easy for residents to get in and out of the shower, sit and stand from the toilet, brush their teeth, comb their hair, and perform other essential hygiene tasks. Rest assured that your elderly loved one has as much assistance as necessary to keep them safe while in our care. 
Zero Threshold Showers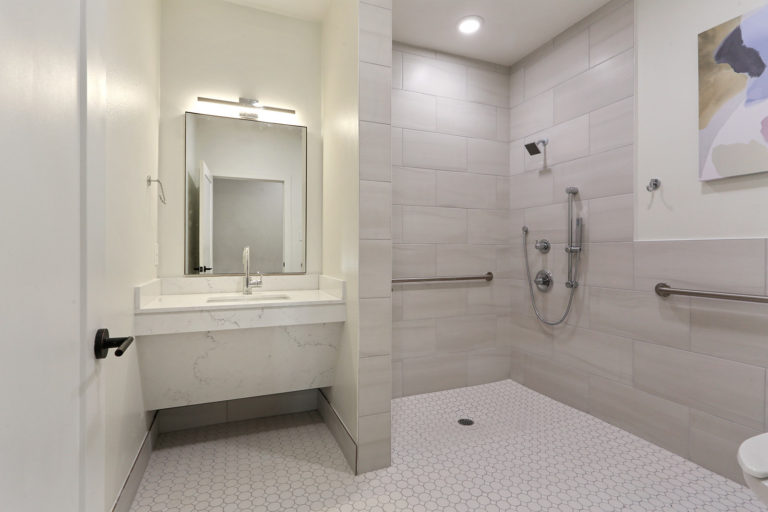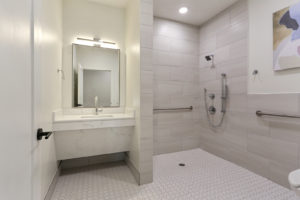 A threshold is a ledge or sill that rests on the shower floor. Its objective is to prevent water from spilling out of the shower and into the rest of the bathroom. Thresholds can be dangerous for seniors with mobility restrictions, as they can easily trip over the ledge. A zero-threshold shower is a walk-in shower that eliminates the need for a step-over, making it easy for seniors to get in and out. Additionally, zero-threshold showers allow wheelchairs to roll into the shower with ease. At Peristyle Residences, we only have zero-threshold showers for the safety of our residents. 
Bright Lighting
All the bathrooms at Peristyle Residences are outfitted with bright lights, helping reduce the risk of a dangerous fall. Bright bathroom lighting helps our residents see obstacles and potential hazards. They also help our residents and caregivers move around more confidently and safely, reducing the chances of a trip and fall.