Living independently in the comfort of your own home may not be the safest option if you are a senior citizen requiring assistance with activities of daily living. As the ability to care for oneself declines, it is a good idea to explore ways to protect your quality of life without risking your health or safety.  Assisted Living is a service offering help with everyday tasks to those with disabilities and older adults. Assisted living allows seniors to maintain their independence as much as possible while providing necessary assistance to navigating day-to-day life.  Quality of life is expected to immediately increase when a senior relocates to an assisted living community or home.
At Peristyle Residences, our team of healthcare professionals takes pride in providing exceptional assisted living services in the greater New Orleans area.  Please contact us for a tour of one of our senior living residences today. 
Services Provided By Assisted Living
The ultimate goal of assisted living is to offer peace of mind for families while their loved one receives care. Depending on a senior's needs, assisted living can include a vast array of services, including the following: 
When is it time for Assisted Living?
Families are often faced with the difficult decision of when to provide care for their elderly relatives. This decision varies by individual and situation, but generally, answering a series of questions about the senior's ability to perform activities of daily living (ADLs) will help determine if assisted living is necessary.  
Can they cook their own meals, feed themself, and clean up afterward?

Can they safely dress without the risk of falling?

Can they bathe safely without the risk of falling? 

Can they sit and stand from the toilet without the risk of falling?

Can they safely get in and out of bed, wheelchair, car, etc.?

Can they manage their medication safely?
The right time for assisted living is a decision involving both personal choice and safety.  For some, this may mean assisted living is an option from the onset due to a lack of ability to perform ADLs. On the contrary, some find they can continue to live independently but eventually get to a point where they require assistance around the clock. Others may not be able to live alone at all and require help with multiple tasks each day.
Choosing the Right Assisted Living Home for You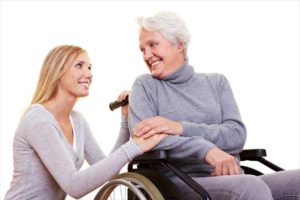 One of the most challenging decisions you will ever have to make is choosing where to live when it becomes evident assisted living is necessary. The best way to decide on the appropriate assisted living home is by determining what level of care your elderly loved one needs, then looking at what types of options are available in your area. Choosing a home for your loved one can be challenging. Here are the factors you need to consider:
-What services does your elderly loved one need? The type of care offered is essential. You must assess what needs they have and what kind of care they require.
-What is the price range? Some homes are more expensive, while others are more affordable. You should look at your budget when deciding on an assisted living home.
-Where is the assisted living home located? You want to make sure any home you choose is close to your home and work, making visiting more accessible, cutting down on transportation costs, and time spent away from work or home duties.
-What is the environment of the home?  Assisted living can be offered in a large facility or small residential home. There is no right or wrong choice; it's a matter of personal preference. 
-Does the home offer memory care services?  If your elderly loved one suffers from cognitive decline, it is essential to choose a home with a team of healthcare professionals trained in memory loss. 
How to Pay for Assisted Living?
Because assisted living comes in a wide variety of forms and services with an equally wide price range, costs depend on the community you choose.  Below are the forms of payments that we accept at Peristyle residence.  
Private pay
Private pay is the most common way assisted seniors and their families fund assisted living, meaning that the payment comes from personal resources. This is often a combination of savings, retirement accounts, pension payments, and Social Security benefits. 
Long-term care insurance
Long-term care insurance is a great way to pay the expenses incurred through assisted living, but it requires a fair amount of foresight. If the senior has previously acquired long-term care insurance, the policy can payout to help with costs. Long-term care insurance is purchased through private insurance companies, typically years before the senior shows signs of requiring additional assistance.
Veterans benefits
If the senior citizen is a veteran, there are many options available and worth exploring through Veteran's Affairs (VA). The VA offers allowances to help with the costs incurred from assisted living. Bear in mind, though, that eligibility depends on income and active duty requirements, so be sure to verify whether or not the senior is eligible before counting on that allowance.