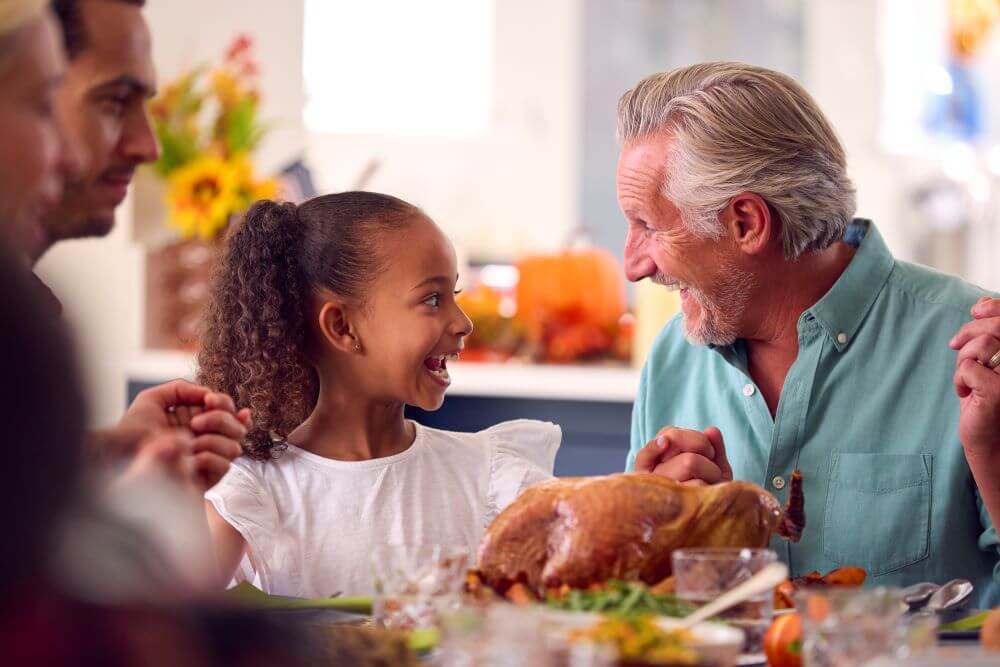 There is so much to love about the time-honored tradition of Thanksgiving. Embracing this special day with an open heart allows us to feel gratitude for those we appreciate in our lives. Sometimes, we fail to express thankfulness to our remarkable grandparents, so what better time to create lasting memories with them than Thanksgiving? 
Below are several ideas to show appreciation to your grandparents this Thanksgiving. These are just several tips we have compiled, but we hope this inspires you to create an unforgettable holiday for your elderly loved ones. 
Thanksgiving Cards and Family Photos
For many families, Thanksgiving starts in the early afternoon, watching NFL football and eating appetizers. But perhaps Grandma and Grandpa aren't pig-skin fans. In that case, you can still enjoy other unforgettable holiday activities as a family. We recommend asking the grandparents to come over early to write thank you cards to pass out before dinner. What a generous and thoughtful way to show each other gratitude! You can also gather the entire family for a photo shoot. Make sure to tell everyone to dress up in their best fall attire. Or better yet, make matching family shirts for the photo shoot for fun. 
Volunteer Together
Thanksgiving embodies gratitude like no other American holiday. It is also an opportunity to give back to the community and positively impact society. Nothing is more rewarding than giving back as a family, from generation to generation. Take several hours from watching football and get your grandparents to help you volunteer, from serving meals at local shelters, organizing food drives, or delivering meals to homebound individuals. Your grandparents may have a favorite charitable foundation they want to volunteer at this upcoming Thanksgiving. It's worth asking! There is no better way to feel grateful than by giving back. 
Make Thanksgiving Decorations Together
Thanksgiving embodies the spirit of autumn, and there are so many wonderful fall-themed earth-tone colors, including reds, oranges, and browns. There is no better way to spend the afternoon than hanging out with the grandparents and creating Thanksgiving decorations. We recommend creating Thanksgiving table centerpieces and decorating the dining room table. Create pilgrim, turkey, and Native American cutouts.  The decorations will surely get the entire family in the holiday spirit and ready for a fantastic meal together. 
Prepare Thanksgiving Food Together
No one knows how to properly prepare a juicy, delicious roast bird better than Grandma. From applying the simplest salts and herbs to a wow-worthy spiced, glazed turkey, Grandma has the most experience. Aside from the grand presentation, Thanksgiving side dishes are the balance, bringing all the flavors of a true fall feast to the table. We suggest helping to prepare the side dishes with Grandma, from salads to casseroles, corn dishes, and potatoes. There are so many fun recipes to make together, helping to form unforgettable moments with Grandma. You can also help in the kitchen to help Grandma put the final touch on the Thanksgiving meal with classic desserts such as cakes, cookies, cheesecakes, cobblers, and pumpkin pie. 
Post Dinner Stroll
Undoubtedly, your belly will be full after a delicious Thanksgiving meal. Take a walk with Grandma and Grandpa, exploring the autumn beauty and enjoying the crisp air. Thanksgiving sets a fascinating outdoor opportunity to stroll your surroundings and experience the breathtaking trees and leaves in their prettiest and most colorful form of the year. Traditionally Thanksgiving dinner starts in the early evening or late afternoon, leaving just enough time for the cooled-down part of the day right before sunset to squeeze in a memorable Thanksgiving stroll with the family.
Play A Game Of Touch Football
Many of our grandparents are still healthy and active. If that's the case with your elderly loved ones, gather everyone in your backyard or head to a nearby park, set up some makeshift goalposts, and play a friendly game of touch football. Engaging in physical activity helps burn off those extra calories from indulging in delicious Thanksgiving feasts. Plus, it's a great way to get fresh air and enjoy the crisp autumn air during the holiday season. It also is an unforgettable day filled with touchdowns, laughter, and quality time spent with your grandparents.
Conclusion 
Thanksgiving is a cherished holiday representing gratitude and blessing for the things we value most in our lives. Often, we forget about our grandparents in the throws of daily life. This Thanksgiving is the perfect time to show appreciation for them by taking the extra step and planning something unique, fun, and heartfelt. 
If you are looking for assisted living and memory care in Greater New Orleans, don't hesitate to contact Peristyle Residences. Our small, intimate group homes ensure your elderly loves receive the care and support they deserve. Please contact us to schedule a free tour of one of our centralized homes. We are looking forward to meeting you and your family.